According to a recent study by Reuters Health, only about one-third (37 percent) of American adults have advanced care directives in place for end-of-life planning in case of an illness or sudden incapacitation.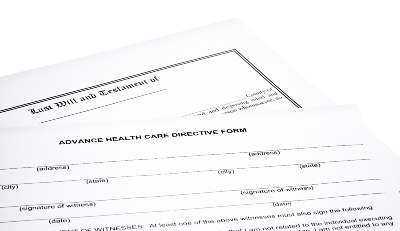 While it may seem a scary thought, a medical crisis or sudden ailment can leave you too ill and unable to make your healthcare decisions. In such situations, advanced care planning ensures that you get the adequate medical care that you would want, should you become unable to speak or make decisions for yourself.
If you need assistance drafting an advance directive or estate plan, it's important that you consult with a knowledgeable Washington estate planning attorney as soon as possible for detailed guidance. Attorney William E. Morgan is committed to providing experienced and comprehensive legal guidance in matters of estate planning, elderly law, senior care, and advanced directives. As your legal counsel, he will review the circumstances surrounding your unique situation, help you understand all your legal options, and determine the ideal plan that best fits your unique needs.
William E. Morgan, Attorney at Law is proud to serve clients across Grays Harbor County, Washington, and the surrounding areas of Montesano, Aberdeen, Hoquiam, and Pacific County.
What is an Advance Directive?
An advance directive is a legal document that provides specific instructions regarding a person's preferred medical care in the event that they're unable to make medical decisions on their own. The advance directive allows you to describe the type of healthcare you want or appoint a health care representative who will make medical decisions for you when you're unable to do so, due to a sudden illness or incapacitation.
What Decisions Are Covered
by an Advance Directive?
An advance directive may cover the following medical decisions:
The person you want to appoint as your health care representative. This person can make key decisions regarding your healthcare on your behalf.

The kinds of medical treatment you want or do not want.

Your values, goals, and preferences about health care.

The medical facility where you would like to receive health care or treatment.

Instructions about treatments such as cardiopulmonary resuscitation (CPR), dialysis, artificial nutrition, and hydration.

Donation of tissues, organs, brain, and eyes.

Funeral and burial arrangements.
Appointing a Health Care Representative
In your advance directive, you can appoint a family member, close relative, or friend who is familiar with your wishes as your health care representative. You can also name an alternate health care representative to step in should your first choice be unavailable, unable, or unwilling to act. However, your doctor or any medical personnel working for your doctor cannot be named as your health care representative.
What Are Their Responsibilities?
Your appointed health care representative will be tasked with the following responsibilities:
Represent your best interests and be able to make well-informed health care decisions on your behalf.

Make medical decisions that are consistent with your wishes.

Have a detailed conversation with you regarding your wishes long before any serious illness or incapacitation.

Discuss your possible treatment options.

Confer with the medical team and review your medical chart.

Request consultations and second opinions

Refuse or consent to medical tests, examinations, or treatments.

Make life-support decisions for you.

Authorize a transfer to another medical facility, institution, or physician if necessary.
How to Modify an Advance Directive
Given that people may change their minds over time, it is recommended that they review their advance directive regularly to ensure that it reflects their current wishes. You can always modify your Washington state advance directive with the help of an experienced attorney. If you choose to modify or revoke your documents, please be sure that you notify your health care representative, alternate representative, your doctor, and family members as needed.
Work With an Experienced Advance Directive
Attorney in Grays Harbor County, Washington
Advance care planning isn't only for older individuals. Regardless of your age, a critical medical condition can leave you suddenly incapacitated at any moment. In the event that you're unable to make your healthcare decisions, having a strategic plan in place will ensure that you receive the exact medical care that you desire, without exception. A knowledgeable Washington State estate planning attorney can help determine the right options that best fit your unique needs.
Attorney William E. Morgan has devoted his career to guiding clients through the advanced care and estate planning process. As your legal counsel, he can evaluate the details of your unique situation, help you understand all of your legal options, and put together a customized plan for long-term care that will ensure your wishes are respected. Using his extensive experience, Attorney William E. Morgan can help clarify your desires and make well-informed decisions regarding your future health care and estate planning needs. Get in touch today to get started.